Bermuda Mangroves
We visited Bermuda when traveling via Norwegian Joy Cruise Ship from New York. It was a Rotary organized cruise with 120 others from our Rotary Zone 28/32 and included Director Drew Kessler and PRIP Barry Rassin.
They organized a Bermuda land environment project to witness some of the environment concerns of the mangroves. We walked the pathways of the mangrove areas and picked up the garbage we could. Some of the volunteers were able to plant mangrove seedlings to help build up these areas.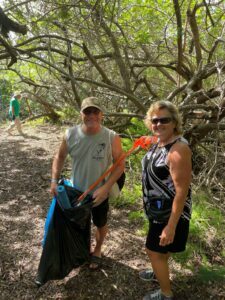 Mangroves are so important to our eco system helping to provide safe homes for small fish life before they head out into the open oceans. Mangroves store more carbon then terrestrial forests, they help fight climate change and coral bleaching.
Mangroves help act as a defense against tsunamis and floods.
More awareness around the world to protect Mangroves is so important so we can help stop mangroves being depleted for construction of coastal hotels or fish ponds which are two of the reasons people are eliminating these salty forests.
Visit sites relating to mangroves like Earth.org or a blog about mangroves at Bermuda Biology